who or what sent this?
The internet has been going crazy for a couple months about this mysterious signal from space.  Commonly known as an FRB or "fast radio burst" their origin is still a mystery and only a few have ever been detected.  The most recent and famous one was found just a few months ago.  Most astronomers think it is from a pulsating neutron star however there are differing opinions on this matter.
One of the more "far out" opinions, no pun intended is that it came from extraterrestrials.  Most people's initial reaction when hearing such ideas is one of skepticism, which is understandable given the amount of bogus information regarding the topic.  However, it is a possibility and is worth examining.
This is a pic of radio telescopes which SETI used and is using again to send and receive signals.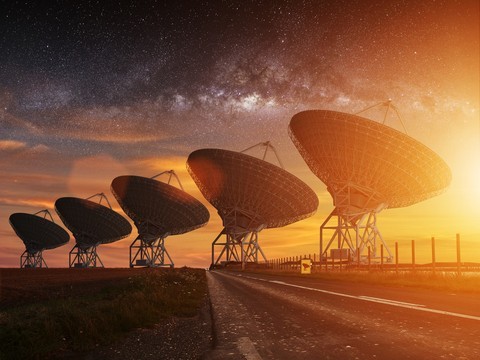 And one more traditional astronomer had this to say in regards to the matter:
Emily Petroff from Swinburne University, who helped discover the pulses, has suggested this pattern may lead to an important discovery.

She tweeted: 'We have no idea what's going on, but we know it's definitely something cool.'
So even she seems not to be convinced it is from a pulsar by saying she has no idea what's going on.
To be continued..
thanks to dailymail.co.uk for the great info